Scooter Rental Santorini: 5 Points to Know
---
Scooter Rental In Santorini
Santorini is a beautiful place with attractive pearly white buildings, museums, incredible sunsets, and a lot more. 
So, are you planning a trip to Santorini? If so, great!
Do you want to explore the beautiful Santorini on a two-wheeler? 
If yes, read this article to know the 5 points about scooter rental in Santorini. 
Let's get started!
1. Opt For 125cc Scooters
In Santorini, there's no need to opt for higher displacement scooters or motorcycles. 125cc scooters will be more than sufficient. 
The roads in Santorini are pretty narrow, with many hairpin bends. On these narrow roads, it's not advisable to go above 60 kph. In fact, even the speed limit in many residential areas is between 30 kph to 50 kph. 
Though 125cc scooters may struggle to climb steep uphills, the power of higher displacement scooters can be difficult to manage if you're a beginner. 
If you're going with a pillion, you can prefer 150cc or at most 200cc scooters. But don't go higher than that. 
Not to mention, smaller displacement scooters can save you a lot of money on fuel.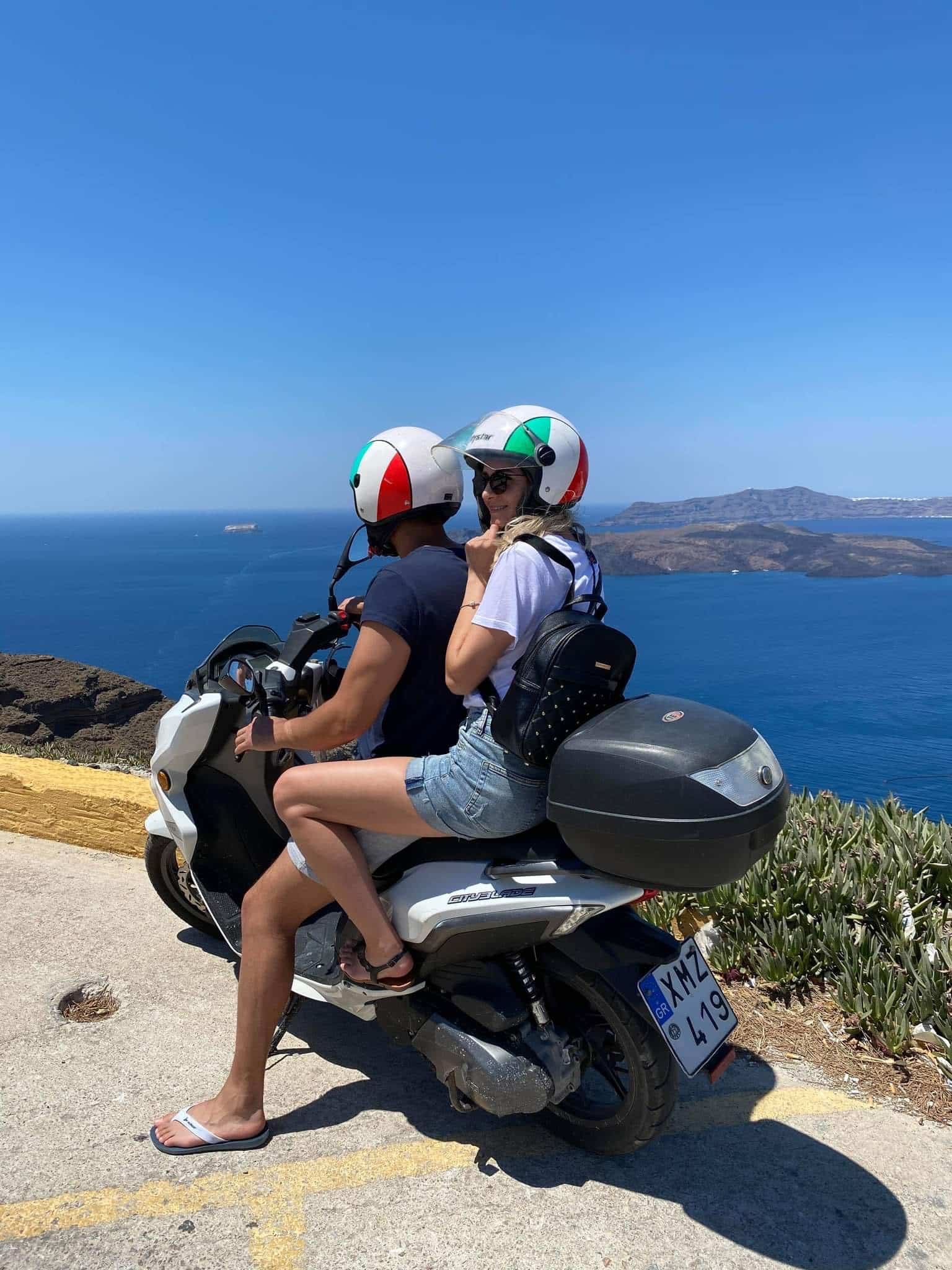 2. Find a Good Rental Service Company
To have a good scooter rental and riding experience, it's essential that you choose a good rental service company. 
BikesBooking is an online scooter rental booking site. They have various scooter options and offer a good amount of flexibility in their services. Also, they offer scooters at an affordable price. 
If you have the time and prefer to rent scooters from rental shops over online booking, you can do so pretty easily as there are many shops in the main places of Santorini. 
3. Documents Required
To rent a scooter in Santorini, you should have an international driving license. 
If you're an EU resident, an A1 motorcycle license will suffice for scooters under 125cc. 
If you want to rent scooters with engine displacement higher than 125cc, you should have an A motorcycle license that's at least 2 years old. 
Besides the license, you'll need a card to make the payment. 
Being 18 years old is sufficient to rent a 125cc scooter. However, you should be 21 years old to rent bigger scooters.
4. Motorbike Traffic Rules
As Santorini is in Greece, the traffic rules are similar. 
A helmet is the basic protective gear for riding a scooter, and it's essential for both rider and pillion to wear a helmet when riding in Santorini. 
If your pillion is a child below 5 years of age, you should have an appropriate child seat with a helmet that properly fits the child. 
Though it's allowed to carry a child under 5 years as a pillion with the protective measure, I personally don't recommend doing so. 
You should also use low-beam or dipped headlights when riding during the day. This enhances safety. 
5. Choose Your Mode of Transport Wisely
Though this article is about scooter rental in Santorini, I just want to make you aware of the road conditions in Santorini. 
Santorini roads have a lot of traffic. Some people, especially the locals, drive recklessly. 
Also, the roads aren't in great condition. If you're used to riding on smooth roads of America or German, keep your expectations low before you start riding in Santorini. In Santorini, the roads are pretty old and have many potholes. 
If you aren't familiar with riding two-wheelers, I suggest you opt for other modes of transport. 
Conclusion
If you're good at riding a scooter, you'll absolutely enjoy your rides on the amazing roads (not in terms of quality) of Santorini with beautiful sceneries. 
Since the roads in Santorini are pretty narrow, I recommend you opt for 125cc scooters. However, if you have the need, you can opt for higher displacement scooters. But, don't go beyond 200cc as the power will be difficult to manage on those roads, and you'll quickly end up violating the speed limit.
---